Meals On Wheels: Six Food Trucks To Chase Down
April 1, 2013
Ah, springtime. Birds chirp, kids play, water ripples, grills sizzle from the backs of makeshift restaurants on wheels. Yes, the sun is out and so, gloriously, are the food trucks.
Food trucks are like the ice cream truck for grown-ups (of course, some of us still get excited at the sound of the Frosty Treats truck). And you don't even have to be "progressive" to enjoy them. The food trucks, we mean. But we digress.
Here are six of many great local food trucks worth checking out. You can find them all at once at SoMa (the neighborhood South of Main) Food Truck Thursdays or Main Street Food Truck Fridays. Click on the links below to learn more. Enjoy!
Southern Gourmasian
This nationally recognized truck is not your daddy's kitchen on wheels. Think brisket with an Asian twist, shredded pork shoulder and spicy chicken and dumplings that'll clear up even the most congested nasal passages. (We kid you not — this is the black diamond of spicy.)
You won't miss the big yellow truck with the red dragon, but you may miss the beef short ribs, the Balinese chicken or even the shrimp and grits if you don't show up early. For dessert, grab a s'mores cookie. This is the "Southern" Gourmasian, after all.
The Food Truck
They had me at "Trucker Cheeseburger." It's on Texas toast, people. My next encounter with this establishment will involve the Ooey Gooey Pig Sooey (had to throw that in after the Texas reference) — cured ham, double layers of melted American and Swiss, "squished between Marble bread." Hungry yet? These are just two samplings — the menu is chock full of gourmet sammies, from Reubens to Portobello wraps. Chase it down with a chocolate fudge brownie or a chocolate chip hupcap.
Yes, hupcap.
The Sugar Shack Sweets & Treats
The Sugar Shack is a little ol' place where we can get togetheeeer. And you don't even have to head down the Atlanta highway to get the best cupcakes in town. (That was a pop culture reference, folks.) Find 'em around town and at SoMa's Food Truck Thursdays. The strawberry cupcakes with strawberry cream frosting are highly recommended. Not in a cupcake mood? Then try the mini bundt cakes, the Mississippi Mud Brownie or the Ooey Gooey (there's that term again) Strawberry Bar. They're worth a road trip.
Green Cuisine
We confess to a little trepidation in our approach to this veggie-lover's delight. But the good folks at Green Cuisine were gentle. Am I still a meat lover? Absolutely. Do pineapples make for an awesome quesadilla? The answer, my friends, is yesssss. It works here.
So, for many, do the roasted red pepper asparagus wraps, the grilled pimento cheeses and the chili cheese veggie dogs, the sight of which induce the production of saliva. Hey, vegetarians gotta eat, too.
Red River Catfish & BBQ
Back to the Arkansas basics here: Catfish, barbecue (beef, pork and chicken) and all the fixin's. They even have shrimp, salads and jumbo corndogs, which they might even grill if you ask (and next time I might).
Usually located in the old Poor Man's lot at Third and Chester, it's convenient for downtown workers. On a recent blustery – OK, downright cold – March noontime, Red River seemed to be the only truck doing business. And we're glad they were — the steaming hot catfish fillets lathered in tartar went down goooood.
Luncheria Mexicana Alicia
It wouldn't hurt to brush up on your Spanish before ordering. This is old-school taco truck territory right here. Of course, first you have to find 'em. Mexicana Alicia has two trucks that roam, but it's worth the effort.
Beef and chicken tacos, chimis, burritos, quesadillas, tortas and flautas (a confession — I don't know what those last two are). This is bare bones, folks — bring your own drink unless you're headed back to the office. The tacos – 2 bucks a pop – go down soft and easy and leave you wanting more.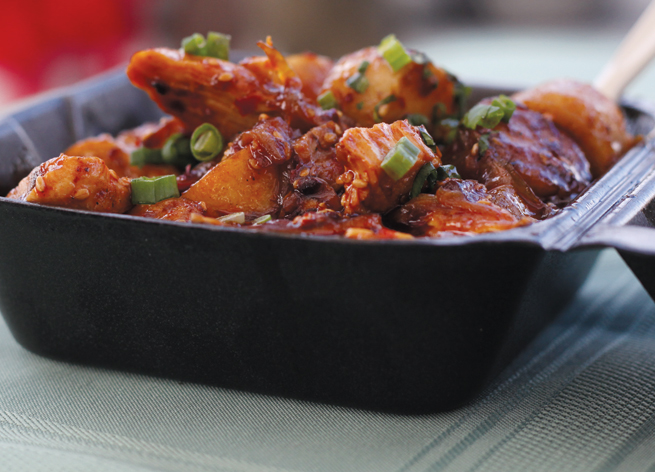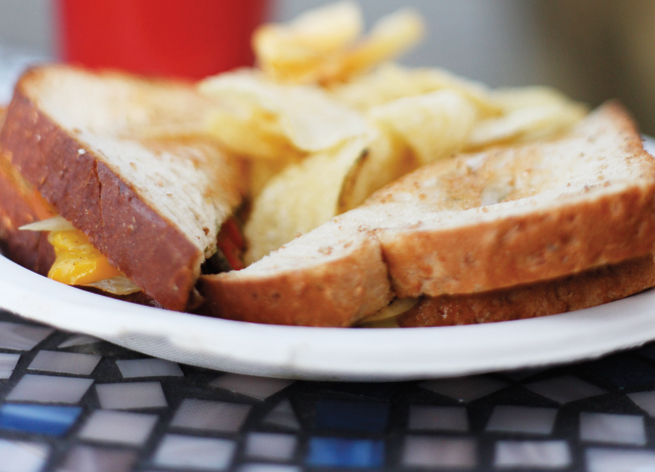 Permalink