2012 Women to Watch: Carrie Parsons of Salon Scarlet
May 29, 2012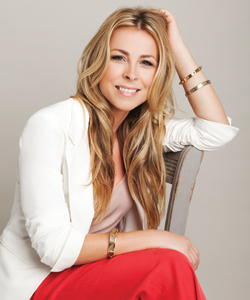 Carrie Parsons
Owner/Stylist, Salon Scarlet
Styling hair has been a passion of mine since I was 15. I love being able to teach basic skills to my clients, even if it's just how to hold the dryer and a brush. Never being bored in my profession, I feel ideas come immediately, almost instinctively. It's rewarding for me to have Jessica Smith in the salon as an "up-and-coming" stylist. Every day we work together and style beautiful hair.
On Power

People often underestimate the power of a really good haircut. I felt most powerful when I opened my own business. By devoting 100 percent of my time and talents to my business, it has far surpassed my expectations. Jeanne Johansson has made owning a business seem effortless.

A true sign of power is realizing what you're good at, mastering your technique and following your intuition with confidence.

On Success

Nothing is better than being a part of revealing the beauty of a woman. That's what makes me feel successful. What could be better? I love cultivating relationships with my clients. Some of my favorite friendships are with women in their 50s and 60s, from whom I've learned so much. I would love to expand with Scarlet and take on the responsibility of five or six stylists.
Powerful Day
While transitioning from one salon to Scarlet, the 82-year-old owner of Dorothy's Magic Mirror asked after seeing me cut the famous Victoria Beckham A-line bob, "Now honey, you just gonna leave it like that?" That's when I truly understood the growing generational difference in hairstyles.
The Quiz
Favorite Destination in Arkansas? Little Rock. Duh.
Favorite restaurant in Little Rock and what you like to eat there: Capital Hotel Bar & Grill, grilled pimento cheese sandwich and the Parmesan herb fries.
(See the full list of the 2012 Women to Watch here!)
Permalink